History of Paulington Studio
Submitted by christopher on Wed, 2006-05-03 22:17
In the Beginning
In the middle of 2003, Adam Williams, Christy Barko, and Somer George travelled to Michigan for a several day recording Marathon with Clint Hooker. Clint had something of a project studio set up in an old ball closet off of the gym at an elementary school in Troy, Michigan. Here, in this hole-in-the-wall, the group recorded their songs.
Somer rememebers:
Christy had a bit of a cold, but they persevered and spent two full days recording 8-10? songs. Fortunately school was not in session at the time, but there were occasional interruptions as someone entered the gym and started boucing a ball or moving things around. There was styrofoam on the walls I think. It was very crowded for the 4 of us to fit. I sat in the corner against a wall, reading, listening, and giving opinions. Christy and Adam had very little time to practice.
A rushed recording job can mean only one thing when it comes time to mix down -- more work. Clint, who was kind enough to offer his services for free, spent many long hours working on several of these songs. (Listen to one here) Unfortunatley, Clint's busy schedule and many responsibilities did not allow him the time neccessary to complete mixing all the songs.
By Christmas 2003 the songs had arrived. We were exited to finally hear the songs for the first time. Two things happened: we were inspired by how well Clint had done the songs he had been able to complete; and we were disappointed to realize that the other songs really did need a lot more help!
So the inspiration began. On Christmas day we began discussing how nice it would be to be able to work on the songs ourselves. At first it seamed infeasible, but the idea developed. Soon we were talking about building a recording studio of our own. Having a studio would solve a number of problems:
The studio would be close by
More time could be spent on doing each recording well
If someone was sick we could reschedule their recording
It was all still just an idea, but then came a phonecall. Christy and Kevin Barko were driving up to Michigan to visit realatives. They had listend to the CD and had an idea: We should build a studio.
This was something of a sign to us. So over the rest of Christmas vacation there was prayer, more discussion, and planning. We decided to build a small project studio in Ron and Marti Williams' basement. With help from John Sayers, Christopher George and Ron Williams came up with a studio design, and a team effort cleared out the space in the basement.
Construction Begins
The basement presented a number of challenges:
A stairway
A heat pump
Two supports in the middle of the room
Two chimmineys
Sewer pipes
Water pipes
Eventually we settled on a small control room (approximatley 10'x10') and an even smaller studio. We figured out how to incorporate one of the support polls inside the wall of the control room and how to "isolate" the studio itself from the heat pump and sewer lines that took up part of the space it would otherwise include.
Ron oversaw most of the cunstruction. Christopher travelled up to the studio every several weeks to assist with planning and work. A number of people contributed to the actual construction work. Here's the list:
Kevin Barko
Christopher George
Somer George
Reed Richardi
Adam Williams
Ron Williams
Marti Williams
(someone comment if anyone is left out)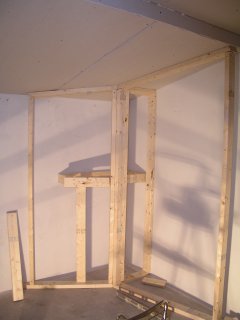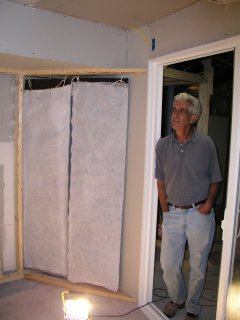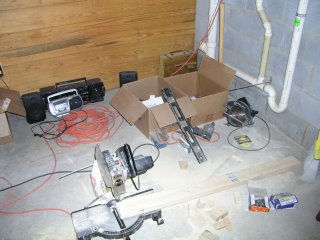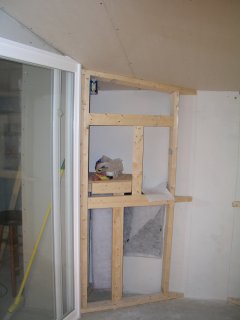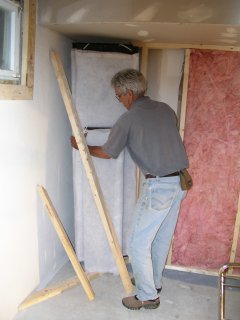 Stage One Complete!
Our dealine for havin the studio operational was March 2004. This goal wasn't reached until September of that year; but it was reached.
By this time we had gathered the funds for and purchased a basic selection of recording equipment. Christopher, a Linux enthusiast, had discovered and become involved with a FOSS (Free and Open Source Software) digital audio workstation called Ardour. Ardour became our core tool for recording and mixing.
We moved our equipment into the new studio, setup our computer on a make-shift console table and Paulington Studio became a reality.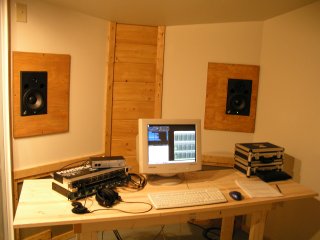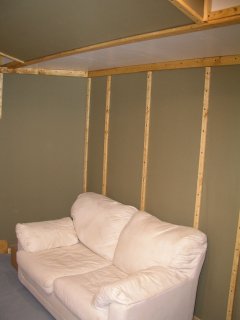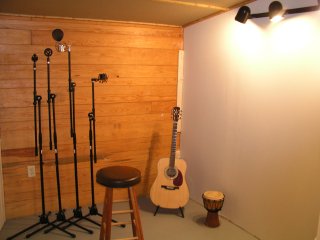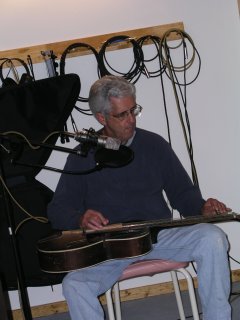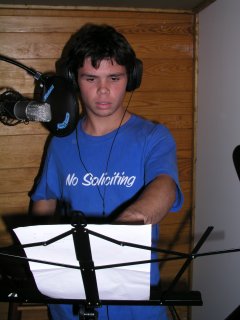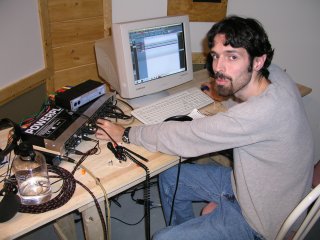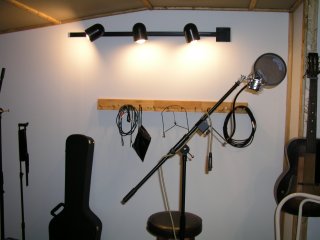 Refinement
Over the course of the next year refinement and imrovement continued in between recording projects. A new console table and rack were built to accomidate our equipment A recording light system was built and installed to warn people, particularly outside the studio, when we were recording. Due to the low ceiling in the basement we were not able to isolate the ceiling of the studio from the floor above it. When we are recording, it is important that no one walks on the floor above it. (We are still trying to train Desia, the Williams dog, about this rule.)
The studio was rewired. Origonally we poked mic cables through the wall via a PVC pipe stuffed with foam for sound isolation. The new cable system was provided a wall jack for varios microphones and headphones to be plugged in from the studio.
We added some defusion to one of the walls in the studio. We had a bunch of scrap wood left over from the construction that we sawed up, stained, and screwed to one of the studio walls in a random outline of a cross. The crass was to be a reminder of Who the studio had been built for.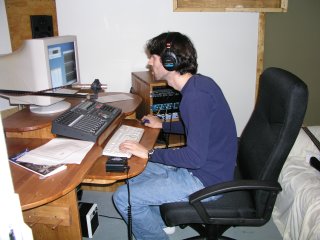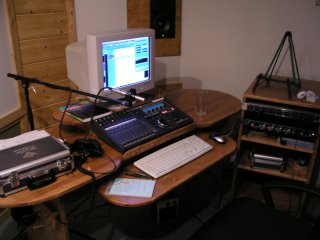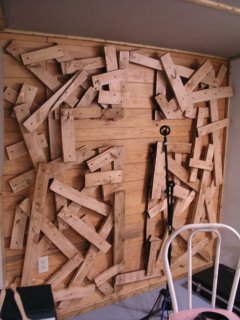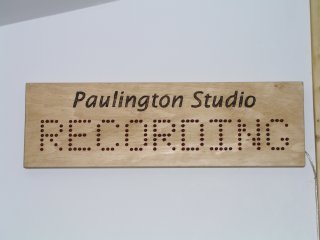 Yet to Do
Paulinton Studio is still a work in progress. There are still areas that need to be trimmed and the floor is still scratched up concrete. We've discussed putting down a slate or wood floor, but finances and time have kept that from happening. We purchased some slate to see what it would look like.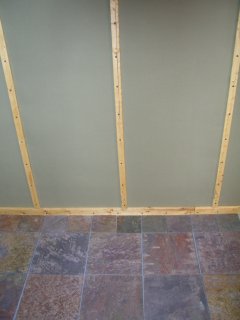 Despite these points of incompletness Paulinton Studio has turned out very well. People visiting the studio comment on how nice it looks. Most importantly, Paulington Studio is being used to record and produce recorded media that is used to share the beautiful reality of Jesus, the Christ.
Equipment
The Computer
Paulington Studio is powered by Ardour, running on Gentoo Linux. The computer has dual AMD Opteron CPUs, 1024MB RAM, 100GB HD for the OS, and 250GB SATA HD for audio. The computer is located in a closet outside the studio and control room. The cables run through a PVC pipe. We run dual displays in the Control room: 20.1" and 15" LCD monitors. We use a wireless keyboard and gyroscopic mouse that allow us to control the computer from the studio when recording alone.
The Audio Euipment
RME HDSP Multiface
Event TR6 Studio Monitors
Studio Project C1
Studio Project C4 pair
Rode NT1a
Mic preamp -- I forgot
Headphone amp -- also forgot